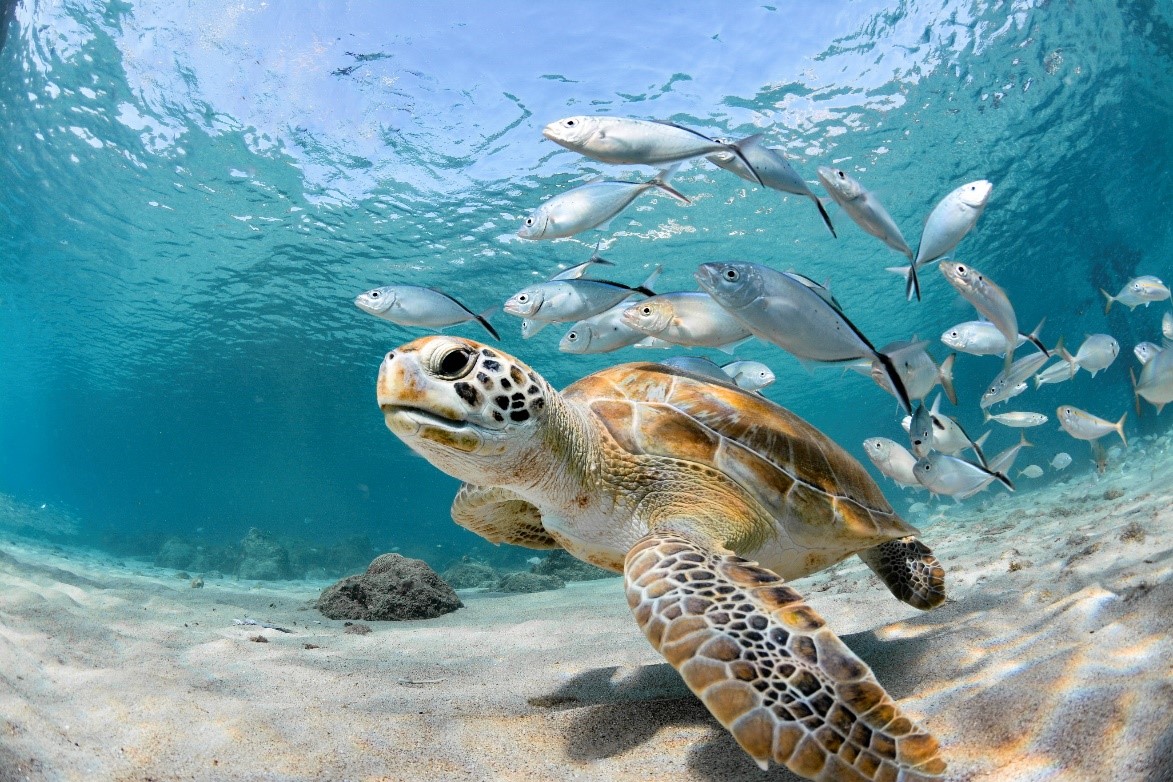 Every year, tens of thousands of marine mammals, sea turtles, and seabirds suffer and die in U.S. oceans from deadly fishing gear. Now is a crucial time for protecting our oceans, and discussions around sustainable seafood have never been more important.
Bycatch, or entanglement in fishing gear, is one of the greatest direct threats to whales, dolphins and other marine species, including fish species not targeted for the marketplace. Nearly half of the Great Pacific Garbage Patch is comprised of fishing nets that have been lost or discarded.
These 'ghost nets' become floating debris that attract, then entangle and kill, millions of sharks, rays, fish, seabirds, turtles and marine mammals every year. Some fishing methods destroy coral, seagrass beds, mangroves and other fragile and ecologically-important ocean habitats.
Human rights abuses have also been documented in many industrialized fisheries around the globe, and vulnerable workers are exploited by multinational companies that trawl the high seas for months at a time. As catches have decreased, global fishing effort has increased, leading to intensified competition and harmful government subsidies that support unsustainable fishing practices.
By reducing our fish consumption, we can reduce our carbon footprint and protect the health of our oceans. Ocean ecosystems produce over 70% of the oxygen in our atmosphere—without them, our future is grim.
Fish Free Friday. With increasing consumer awareness and education around global fisheries and their impact on the environment, leadership from corporations is critical to defining more sustainable and humane pathways for feeding the world. By supporting the companies working to address the devastating impacts that commercial fisheries are having on our oceans and marine life, we can work to incrementally reduce and/or eliminate our seafood intake.

At OPS, we believe transitioning to a plant-based diet is one of the most important things that any of us can do in our daily life to make a positive impact on the planet. Much attention has been focused on the detrimental impacts of land-based animal agriculture, leading to calls to reduce meat consumption—but the acquisition, transport, and consumption of seafood is a primary contributor to greenhouse gases and the destruction of fragile ocean ecosystems.
There are many ocean-friendly reasons to reduce or eliminate the fish on your dinner plate. Fish populations are in decline globally with over 90% of the world's fisheries considered fully exploited, overexploited or depleted. Our oceans are in a state of crisis, facing warming, acidification, pollution and the destruction of key habitats, such as coral reefs. As part of our efforts to reduce or eliminate seafood from our diets, we launched our Fish Free Friday campaign just a few months ago in collaboration with Good Catch Foods and Fish Free February.
Entanglement of whales in California fisheries. On both coasts of the United States, vessel strikes and entanglement in fishing gear pose the greatest immediate threats to large whale populations, with climate change not far behind.
Following years of record-breaking numbers of entanglements in California, many whales and other marine life could be saved if new legislation passes. The Whale Entanglement Prevention Act would protect countless endangered species by requiring the use of ropeless fishing gear for trap fisheries, such as crab fishing, by the end of 2025. This bill would make California a leader in promoting sustainable fishing gear that could be used to protect marine life around the world.
Between 2015 and 2020, more than 283 whales were reported entangled in fishing gear off the West Coast. Ropes utilized in crab fisheries wrap around the mouths, tails, and flippers of whales, affecting their ability to surface for air, feed, or care for their young. Many entangled animals suffocate and die. Countless others suffer severe gashes or other trauma as lines cut or become embedded in their skin — which can also lead to death.
It is important that California quickly shifts towards ropeless fishing gear for the survival of these species. Using ropeless fishing gear is the only way to eliminate entanglement risk while allowing fishing to continue. The technology is already available, and a law mandating that California's fisheries transition to ropeless gear will spur innovation and incrementally reduce costs of deployment.
OPS also supported the successful campaign to ban the destructive swordfish driftnet fishery in California. This fishery is currently being phased out.
Aquaculture reform. OPS is supporting Compassion in World Farming's campaign to expose the environmental and animal welfare concerns associated with large-scale fish farming operations. As part of the Don't Cage Our Oceans Coalition, OPS is also working to address industrial aquaculture issues and reverse dangerous policies advancing industrial ocean finfish farming. Marine finfish aquaculture uses giant floating net pens and cages that routinely discharge fish waste, excess feed, and chemicals into open waters, and can pose an entanglement risk for marine life.
Ending WTO fisheries subsidies. OPS is working with the Stop Funding Overfishing coalition to call on the World Trade Organization (WTO) to end harmful fishing subsidies. Billions of dollars in government subsidies encourage destructive fishing and harms vulnerable communities. WTO members have been negotiating new rules to tackle harmful fisheries subsidies, but this work is incomplete. OPS joined over 170 organizations urging world leaders to reach a WTO agreement to stop harmful fishing practices.
Federal legislation. OPS is supporting the bipartisan Driftnet Modernization and Bycatch Reduction Act which is currently in the process of being reintroduced after failing to be signed by the last Administration. The bill would phase out harmful large mesh drift gillnets utilized in the federal waters off the coast of California, the only place the nets are still used in the United States (and where state law was passed in 2018 to mandate a phase out of these nets). We are also supporting the SAVE Right Whales Act which will increase funding and programs to protect the critically endangered Right Whale on the eastern coast of the United States from vessel strikes and entanglement in fishing gear.
What you can do!
One of the best things you can do to support the oceans is reduce your seafood consumption. Pledge to take fish off your plate on Fridays, or for the month of February, or forever!
Become a Fish Free Friday influencer! Click here to learn how!
Try Good Catch's OPS-inspired recipe, and let us know what you think? Reach out over our social media channels or send us an email. If you are really inspired, join our Fish Free Friday campaign and post a video telling us why you're joining. Tag us so that we can share your story!
Check out why OPS Board member and star of Racing Extinction, Leilani Munter, is 'Fish Free'.
Support state and federal legislation aimed at mandating a transition to ropeless fishing gear technology for trap and pot fisheries.